Most Inspirational Women's Running Blogs
If you're just starting your running journey or are just looking to get in shape, then immersing yourself in the right community is everything.
A strong community of like minded individuals can help you achieve your goals.
Whenever I feel my motivation to hit the road dwindle, I look up to men and women who are documenting their progress for all to see.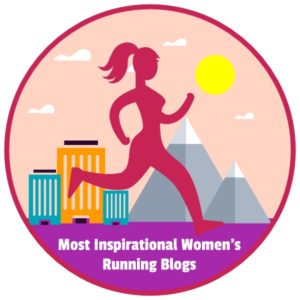 Copy And Paste This Code To Share This Award On Your Site!
Each and every one of these ladies has taught me something that I can apply to my own running journey. 
From recipes, to handling injury, from shoe reviews to running form, I'm sure that these inspirational women can show you something too!
So without further adieu, I'd like to introduce some the most inspirational women's running blogs on the internet. 

Ali On The Run
Ali is many things: a runner, a blogger, an editor and a freelance writer.
But the reason she's on this list is because of her amazing podcast. 
Ali's podcast hosts and interviews everyone from running coaches to professional athletes, everyday runners, industry experts and everybody in between.
The podcast gives you an in-depth look at people from all walks of life that inspire through their trials and victories.
Ali is a fitness geek and no matter what you're looking for you'll surely get your fix on her blog.

Jill Will Run
Jill is another inspiring mother on this list. She is recovering from an eating disorder, but her condition has not stopped her from becoming an RRCA (Road Runner's Club Of America) certified running coach.
Although Jill doesn't coach these days, she continues to run. Something she started doing with her mom after her 29th birthday.
Jill is always testing and reviewing new running products, and her blog is one of the best places to read about some cool running tech.

Taking Long Way Home
Wendy is unstoppable. She's full of energy and is always on the run!
Wendy was recently diagnosed with Rheumatoid Arthritis, a painful condition that I have yet to cover on my blog. But that hasn't stopped Wendy from running. In fact she can also be found cycling, strength training, water skiing, kayaking and a whole lot more!
Wendy runs a fantastic book club on her blog that is dedicated to running. The club reads and reviews some of the best running books written to date and the community only continues to grow.
So if you're looking to read and find reviews on some of the best running books by runners themselves, Wendy's blog is your best bet!

Powered By Bling
Every now and then I come across a blog, look at the authors bio and go – wow!
Powered By Bling is one such blog. Cassandra has been through her fair share of trials and tribulations and come out on top.
Cassandra now runs long distance races with her Hubby and daughter. And if you think getting your family to support your fitness goals is hard enough, Cassandra's done that while shedding a whopping 108 pounds!
She's also battled and won the fight against breast cancer, is a forensic scientist and has now become a fitness instructor. 

Vicky's Running Blog
Vicky's running blog requires special mention on this list because, simply put,
Vicky's story is truly inspiring. The very thought of a hundred miler send marathoners running in the opposite direction.
Vicky on the other hand took the 108 mile Montane Spine Challenger head on!
Vicky is the epitome "seemingly" ordinary working mum". But completing a harrowing 108 mile race through nagging injuries and some of the worst winter conditions makes Vicky one of my biggest motivators.

Running With Attitude
Michelle is running a race a month, she's got her schedule down on her website.
She's big on goals and provides weekly updates on where she stands.
What makes Michelle's blog so special is the community that's built around it. Every post of hers has dozens of comments and Michelle is quick to reply.
This mother of two doesn't just stop at running though, Michelle's blog is peppered with yoga poses and exercises that help will help your running.

Run Steff Run!
Steff has been an athlete all her life. She's been running and jumping all over the track, sometimes not knowing which race she's supposed to be in until minutes before it was being announced.
Steff ran through college and ended up earning her masters degree in sports management. But she lost her way immediately after that and didn't know where to go.
Sensing the turmoil in her life, a friend challenged to run a 5k with her. Steff took up the challenge, but being previously injured, decided to step off the gas a bit. She wound up finishing the race in second place.
Steff found a new lease of life and she hasn't looked back since. She has finished sub 2-hour half marathons and completed full marathons.
Steff was born with talent and believes that giving anything less than you best is to sacrifice the gift.

The Cookie Chrunicles
Meredith's blog focuses on running, recipes and lifestyle. Reading her blog educated me on the hormonal risks an unbalanced diet could have on the body.
A must read on her blog are her posts on eating disorders and the havoc they can wreak on your body.
Meredith  has also completed the Professional Certificate Program in Sports Nutrition and Performance at Stonybrook University. She applies the knowledge gained form this program to keep herself and her family healthy.

Maria's Healthy Slice 
Marcia's story is sweet, simple and to-the-point. She is a stay-at-home-mom who decided to take up marathon running as a challenge.
You'd expect someone trying to run a marathon for kicks to give it up after their first attempt. But Marcia persevered, qualifying for the Boston Marathon in just her second attempt.
She is now a certified RRCA running coach and works with runners at all levels and walks of life.

Run Eat Snap
Jill is an avid fitness enthusiast, blogger and loves photography (in case you missed it like I first did, that's where the 'snap' comes from!). She has run over 60 races and counting, including 12 half marathons and one full marathon.
What makes her blog special is the fact that Jill is a registered dietitian. She's worked with a variety of sports teams at the university of Utah.
With over 70 articles dedicated to proper nutrition, Jill's blog is an excellent source of information on nutrition.

The Pursuit Of Awesome
Alison Heilig is a pure badass! Apart from being the owner and coach at Miles To Go Athletics and being a CrossFit Caoch at CrossFit Become, Alison has certifications as:
An RRCA-Certified Running Coach,
A NASM-Certified Personal Trainer (CPT),
A Corrective Exercise Specialist (CES) & Women's Fitness Specialist (WFS),
And is a 200HR Registered Yoga Teacher, currently enrolled in a 500HR Yoga Teacher Training with additional specialized training in yoga for athletes with Sage Rountree
And as if this wasn't enough, Alison has 2 free running programs listed on the website.
Where she provides private coaching on running form, corrective exercise and yoga.

Shut Up And Run!
There's never a dull moment on Beth Risdon's blog.
Her in-your-face comedy is riddled with life lessons and practical running advice that nobody on the internet is willing to talk about!
You'll learn things like "How Not To Crap You Pants On The Run", "20 Things No One Tells You About Running" and my personal favourite "13 Things I Never Said Before I Started Running".
All this takes away from the fact that Beth is one serious long distance runner. She's competed in Ironmans and has completed a 120 mile, 20,000 ft climb, 6 day stage-race. 
Beth's motto is 'don't let fear hold you down', at her age, Beth makes being fearless look easy. 

MCM Mama Runs
Erika is a mother of 2 who started running due to postpartum depression after the birth of her first son.
Erika still struggles with depression but running keeps her spirits high. She loves her beer and her bling. And has an entire section on her blog dedicated to beer.
She has set herself the goal of running in all 50 states by the time she turns 50. Erika has run in 26 states so far.

Got 2 Run 4 Me
Coco was 20 pounds overweight and decided she had to get the weight off. So Coco dieted her way to fitness by shedding about 40 pounds.
Although, she soon realized that diet alone wasn't going to help her keep the weight off. And so Coco started running.
She has been running ever since 2001, through injuries, raising her teenagers and managing a stressful career as an attorney.
Her blog also hosts book and product reviews along with Coco's reflections on her Christian faith.

Eat Pray Run DC
Courtney has been running since high-school, although she dropped the sport after leaving college.
This is when she decided to chronicle her efforts to accomplish 30 things before turning the big three-oh!
She has since taken up the sport seriously and has even hired a running coach!
I love dropping by this blog because of the genuinely uplifting tone of voice that Courtney writes in. And also to check in on her 2018 goals every now and then.
Conclusion
Whenever I'm not feeling motivated to run, I look for inspiration from the lovely ladies mentioned on this list. 
If you're struggling with achieving your goals; being part of a community can help you stay on track! 
You could even go a step further and take a leaf out of these ladies' (web)pages! 
Start a blog of your own. Build a community. Make yourself accountable to your readers. And achieve your goals!
Perhaps I could look for inspiration from you one day.