The 10 Most Comfortable Work Boots That Are Lightweight And Durable
The most comfortable work boots on the market today, also have the technology to weather a storm.
They not only offer a plush ride, but are also capable of protecting your feet from hazardous environments.
We've listed the most technologically advanced work boots, that are comfortable, durable and lightweight.
Most Comfortable Work Boots Reviews - 2017
1. Timberland PRO Men's Hyperion
Most Comfortable Composite Toe Work Boot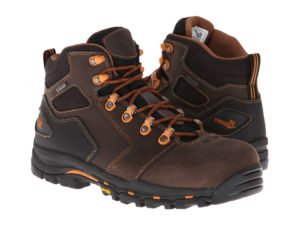 Most Durable Composite Toe Work Boot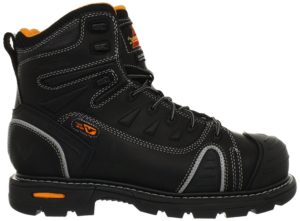 Best All-Round Composite Toe Work Boot
1. Timberland PRO Men's Hyperion Waterproof Work Boot
The Hyperion uses dynamic energy return technology incorporated into the insole. This gives a lot of bounce back, almost like a running shoe, making it easier to be on your feet all day.
The outsole of this boot was co-designed with Vibram. This Vibram sole incorporates multi-directional lugs in the forefoot and heel for that added grip.
The sole is oil and slip resistant as well as non – marking.
This boot performs well on a myriad of terrains. From loose and wet sand, mud and dirt to concrete and gravel, this is a great shoe for gripping every type of surface.
The boot is gusseted and waterproofed with membrane that passes through the entire inner surface of the boot. The composite safety toes are strong and light weight.
The safety toe is also covered by a rubber cap that runs on top of the leather. This helps the boot last a lot longer.
The lacing system works with dual purpose hardware. This means that you can either use it as a speed lacing system or as a traditional one.
Timberland's Everguard leather runs around the heel of the boot for abrasion resistance. Everguard is one of the highest abrasion resistant upper materials on the market today.
The midsole is constructed out of EVA for weight reduction, comfort and durability. This is an extremely flexible midsole.
The outsole features hardware that stabilizes the foot and locks your heel in place.
This is one of the more comfortable work boots for standing all day.
Who is this boot for?
The Hyperion is an outdoor work boot made for those of you working on uneven terrain.
These are the number one rated work boot for surveyors and landscapers who need protection, grip, support and waterproofing as well.
2. Danner Men's Vicious 4.5 Inch Non Metallic Toe Work Boot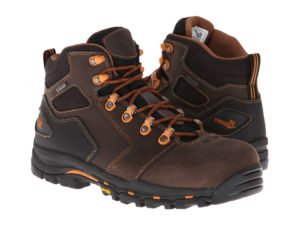 With a name like the Vicious, you immediately think that this boot has got bite. And it does, but in a good way.
But the Danner Vicious is not like the other Danners – hard and heavy with long break-in times.
The Danner Vicious is different.
Danner did not skimp on any steps when designing the Vicious, they've used Gore-Tex for waterproofing, a strong and lightweight composite toe and a dual density Vibram sole.
This boot is not just lightweight, the sole is extremely durable, bouncy and offers great traction with that 90 degree heel.
Danner has also used quality materials for their lacing system. Having loophole eyelets at the bottom and a rather unique speed lace at the top, that holds your laces down after they're tied up.
They've also enhanced the all round comfort of this boot by adding ample padding around the collar and tongue. This makes the Vicious a comfortable all day boot.
Our only gripe with the Vicious is that they didn't add a rubberized the toe. But, what they did was extend the bumper slightly higher, which offers just enough protection to the front of the boot.
Who is this boot for?
If you're tired of breaking in quality work boots, the Danner Vicious is a great choice, for an all day, lightweight boot.
These are one of the most comfortable composite toe work boots out on the market today.
3. Thorogood Men's GEN-FLEX 6-Inch Lace-Toe Composite Work Boot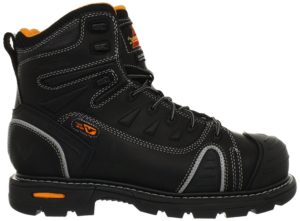 One look at the Thorogood Gen-Flex composite toe work boot and you know there's some hard core new age technology gone into it.
The boot screams cool at first sight. This is one tough and rugged boot.
The list is almost endless when it comes to technology. The Gen-Flex comes with;
Thick rubberized toe and heel caps
Oil and slip resistant dual density hard rubber out-sole
Composite Toe
Fully welted Goodyear storm sole construction
Anti-roll bar heel stabilizing system
Electrical hazard protection meets CAN/CSA-Z195 18,000V standards
Out of the box, this boot is not very flexible at all.
But, once you wear the boot and break it in, you'll notice that it is an extremely flexible and comfortable boot.
The Thorogood GEN-FLEX is probably one of the most comfortable work boots for walking all day.
The composite toe and the out-sole make this boot relatively lightweight.
The anti-roll bar support system makes this boot an excellent option for walking on unbalanced surfaces with ease.
The padding on the collar and the tongue makes you feel that the Gen-Flex is a sport shoe. It is extremely comfortable and after the initial break-in period, the boot molds to your foot.
Another impressive feature of the boot in terms of comfort is the insole. The V 300-GS insole used on these boots is extremely comfortable. Adding this to the dual density out-sole, makes the Gen-Flex an extremely comfortable boot.
Who is this boot for?
Obviously, this boot is for those of you who work outside on uneven surfaces as well as those who work around open electrical circuits.
The black leather version looks extremely bad ass!
4. KEEN Utility Men's Braddock Mid AL WP Work Boot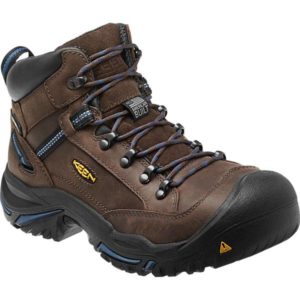 In the world of work boots, the Keen Braddock is special.
The Braddock is a, waterproof, non-insulated, low-cut safety boot.
If there ever was a perfect boot for the summer, the Keen Braddock just might be it.
It is rare to find a boot like this without some sort of insulation or extra height. This mid-cut boot is of the perfect height.
These American built shoes have a direct attach sole that is extremely flexible. Again, something that you don't find on a lot of direct attach boots.
This is a true 12 hour day work boot.
The out-sole on the Braddock is extremely rugged and durable. The slip resistant sole is built to displace water on smoother surfaces like marble and wooden floors.
The insoles on these boots are removable, although we do not recommend swapping them out for anything else. This is because Keen builds their insoles in a way that no other company does, you would be hard pressed to find an aftermarket insole to match this boot.
Although, Keen has put a lot of technology into their insole. It is a bit stiff, but forms nicely to the shape of the foot, offering plenty of support. It is also durable and won't break down easily.
Who is this boot for?
Anyone looking for a capable lightweight, comfortable, waterproof, summer-time work boot.
5. Timberland PRO Men's Boondock 6" Waterproof Work Boot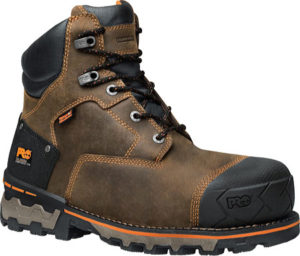 All boots in the Boondock series come with;
Rubberized toes
Waterproofing membranes
Ever-Guard heels
Oil and slip resistant soles
Plush anti – fatigue insoles
The energy return on these boots transferred from the out-sole to the insole to your feet is nothing short of amazing. It makes you feel less tired while standing or walking all day.
This boot is for those of you who needs an extremely comfortable boot to work 12 to 15 hours a day.
Timberland has hit it out of the park with this one, this is what a comfortable work boot should be.
Just like the timberland PRO Endurance, the Boondock 6 inch comes with a metallic lacing system. The top loopholes function as a combination of conventional as well as speed-lacing system.
One thing that also stands out is the ample cushioning on the collar of the boot.
The only downside of this boot is the weight. But the heaviness of the boot dissipates the moment you put the boot on, and that is why it is on this list.
Who is this boot for?
The plush cushioning, the energy feedback as well as the space within the boot all contribute to unmatched comfort.
A great cold weather boot for those of you working 12 to 15 hour shifts.
6. Timberland pro men's 26078 Titan 6″ Waterproof Work Boot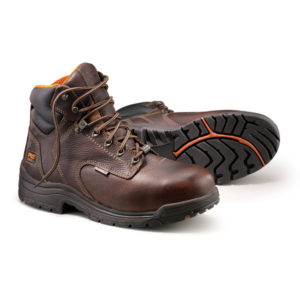 The Timberland Titan is a complete package of a work boot.
The old Timberland Titans had a lot of issues, but they were exceptionally lightweight shoes.
The new Titans have addressed those issues. They are one of the best lightweight contenders when it comes to waterproof boots with an old – school look.
Timberland lightened down their boots with a direct attach sole and added air pumped foam out-soles. This boot has a bouncy feel as a consequence of it's design.
Apart from its lightweight sole, the Titan also comes with a lightweight upper, with soft smooth leather and a cushioned collar.
Who is this boot for?
The Timberland Titans are for those of you looking to upgrade your boot.
This boot is not only flexible, but is also lightweight, comfortable and waterproof.
The direct attach out – sole makes this one of those boots that adds an extra bit of bounce to your step.
7. Wolverine Men's Overman NT 6 Inch Waterproof Contour Welt Work Boot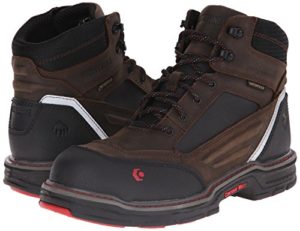 Wolverine has been making comfortable work boots for over 20 years now. And with the Overman, they have done no less.
This boot has been stacked with the latest technology in the boot market today.
The result of which, is a super comfortable, lightweight composite toe work boot.
The soles on these boots are welted and Wolverine does their welts very differently.
They call it a contour welt, that is supposed to mimic the shape of the human foot better. And the comfort of this boot speaks for itself.
Everything on this shoe is meant to mimic or flow with the shape of your foot. Wolverine has really put a lot of thought and effort into the Overman's design.
The composite toe is made of materials that feel better against your foot.
The heel inside the shoe is abrasion resistant. It sits nice and snug against your heel, reducing slippage, chaffing and friction in the area.
And the toe itself is taller and wider, making it roomier for your feet. While the out-sole is slip and oil resistant.
Adding to all of this, the Overman is also waterproof.
The waterproofing extends to a treated waterproof barrier and have all the bells and whistles of a waterproof boot today.
The insole is removable of course. Although, it is nothing to write home about and might be the least tech – driven part of the shoe. What is interesting though, is it still provides plenty of comfort to the feet.
Who is this Boot for?
This is a great boot for those of you who want all the latest technology in a lightweight, comfortable ride.
8. Keen Utility Men's Tacoma Composite Toe Work Boot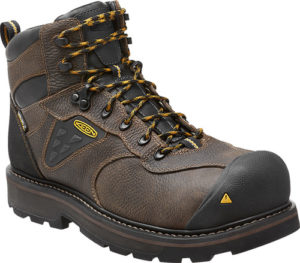 All of Keen's boots resemble hiking boots and that is for a reason, hiking boots are extremely comfortable. With The Tacoma, Keen wanted to make a classic work boot and they delivered.
The Utility Tacoma WP comes with a welt construction for the sole, instead of going the direct attach route, which Keen is known for.
Doing so has made the Tacoma a more durable, slip resistant sole for those of you who work on messy sites.
The sole being used on this boot meets the following ASTM standards – (F2412-11 F2413-11 I/75 C/75 EH and F1677-96 Mark II non-slip standards)
Everything on and inside the boot is non – metallic, as this is a composite toe boot.
Adding to it's arsenal of features, the Keen Utility Tacoma is waterproof as well. Keen's boots hold up well against water, with their own waterproofing system.
The collar of this shoe is something to be written about as well. It has thick padding, and unlike other boots, Keen has carried this padding all the way down past the heel.
This extra padding makes the Tacoma feel comfortable and uniquely yours, as you break the boot in.
Additional features include a rubberized heel and toe, two key points that make this boot even more durable.
Who is this boot for?
This boot is great for those with flat feet as the insole comes with excellent arch support. The boot itself is extremely supportive as well, helping with stability and ushering confidence in your stride.
While we wouldn't call it one of the most comfortable work boots ever, the Keen Utility Tacoma is a great all round work boot for those working around electrical hazards.
9. Timberland PRO Powertrain Mid Alloy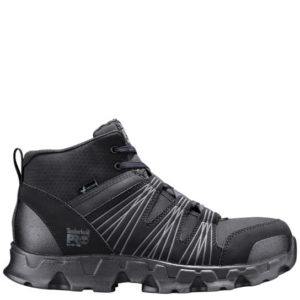 The Timberland PRO Powertrains were designed to keep your feet safe, while giving you full range of motion.
The mid – top style sillouhette comes with a combination of a premium microfibre leather and mesh upper. This will allow for your feet to breathe easy during those hot summer days.
The biggest feature of this safety boot is it's sole which is a cement style construction. Cement – construction soles allow for extreme flexibility along with added cushioning and comfort.
Flexible soles also ensure a minimal break-in period for your boots.
The shock absorbing mid-sole provides excellent energy feedback while walking. Therefore, reducing fatigue for those of you who stand all day.
The wide out – sole at the bottom is abrasion resistant and will also help to keep you stable. It is also slip and abrasion resistant, non marking and static dissipative in its design.
The alloy toe up front provides ASTM safety standards.
Who is this Boot for?
The Timberland PRO Powertain Mid Alloy is for those of you who stand all day.
The flexible cement-construction sole and wide foot-bed provide maximum cushioning, comfort and stability.
How to choose a comfortable work boot
According to podiatrists blue collar workers can be compared to athletes who play endurance sports.
We are the guys are doing heavy compound movements such as walking, lifting, carrying and climbing for hours on end.
Project deadlines also mean working overtime or long 12 to 15 hour shifts.
And as we all know, many a good workman skimps on buying the appropriate safety footwear based on style or cost.
Safety boots are made to a standard, and have to adhere to certain functions based on the type of work being done. Features such as puncture, heat, water, oil and slip resistance as well as impact protection are some of the basic requirements of a work boot.
While we cannot stop you from choosing boots based on cost, we can equip you with the knowledge that will help you choose the best fitting safety boot for the job.
Each pair of safety foot wear has a code that is printed, stitched or stamped onto the tongue of the shoe. This label identifies the type of protection the shoes provide.
Each line of this label lists a specific type of information.
For instance, the first line on the label tells the wearer, which federal standard or section of the standard the boot complies with.
The label's second line of the work boot identifies whether the boots are intended for a male or a female wearer, It also lets the wearer identify whether the shoe contains a reinforced toe. If they do, then the strength of the metal or composite toe will be rated for both impact or compression resistance.
What is Impact Resistance?
Impact resistance, which is the ability to resist damage from a falling object or a sharp blow has three possible ratings;
The lowest rating is I/30. Shoes with this rating can withstand a 50 pound object dropped from seven and a quarter inches. This is the equivalent of 30 foot pounds.
Shoes rated at I/50 can withstand 50 pounds dropped from 12 inches or 50 foot pounds.
And shoes rated at I/75 can withstand 50 pounds dropped from 18 inches or 75 foot pounds.
What is compression resistance?
Compression resistance is the measure of the static pressure a reinforced toe will protect against.
It also has three ratings
Here, the lowest protection is C/30, which provides for protection of up to 1000 pounds of pressure.
Next is C/50, rated for 1750 pounds of pressure.
And finally, C/75 which is rated for 2500 pounds of pressure.
Besides these rating, the labels second line may also include a rating for metatarsal resistance. The metatarsal area of the foot is the region between the ankle and the toes.
Just like impact resistance, metatarsal resistance is rated for 30, 50 or 75 foot pounds, depending on the blow the shoe can withstand in that area.
Other information that appears on protective footwear is listed on the third and sometimes fourth lines.
Common examples include;
Shoes labeled with a CD for conductive footwear and SD for static dissipation footwear. These type of boots are worn in environments where is it dangerous to have a static electric charge build up on the body. For instance, near volatile chemicals.
These shoes dissipate the charge by providing a conduit from the body to a grounded floor. Because their design provides no insulation against electric current, conductive and static footwear, must never be worn in environments where open electrical circuits could exist.
Boots marked EH for electrical hazard are worn in places where open electrical circuits exist. If a worker comes in contact with an electrically charged part containing 600 volts or less, the insulated sole on these boots will reduce the risk of injury.
Puncture resistant footwear, labeled PR is worn to protect the worker from nails, stakes, wire, tacs, scrap metal, glass or any other sharp object that could pierce the bottom of the foot when stepped on.
Shoes marked with an SR are slip resistant. The soles of these shoes are made of materials that maximize traction. Helping to prevent slips or falls that happen in an environment that have wet or oily floors.
How to get the right fit – for the most comfortable work boots.
Besides matching the type of boots you wear to your environment you work in, it is also important to select shoes that fit well.
When you're on your feet for hours everyday, wearing comfortable footwear significantly reduces fatigue and the possibility of injury.
The best time to buy new work boots is at the end of the work day, when your feet have swollen to their largest size.
Throughout life the average adult's foot will change four or five times.
It is easy to see that these ratings do not distinguish between the best steel toe work boot or the best composite toe work boot for the job. As long as the boot meets the aforementioned criteria, they are equally safe.
5 Step Safety Boot Checklist
We have come up with a five step safety shoe check that will help you choose a reliable work boot for the job.
Pressing at the heel of any work boot should not collapse the heel. This is for 2 reasons, the first being fit and the other being safety. Work boots should have reinforced heel counters. This will ensure a snug fit as well as provide support for you ankles and feet. It will also prevent heel slippage and wear and tear inside the boot.
The second test is to hold the boot in both hands at the heel and toe. Pushing the boot together from these ends should only bend the boot at the ball of the foot. If the boot bends beyond the ball of the foot, the shoe is either too stiff or too flexible.
Holding the boot in the same position as the previous test, try twisting the sole. The sole should not twist too much. A boot that twists easily will not offer enough support for those of you who stand all day.
The fourth step in choosing a good safety boot is to take the insole out of the boot and step on it. You want to see a gap of about the width of your thumb in front at the toes. This will ensure that your toes do not hit the toe cap, which will ensure a more comfortable fit and ride.
The fifth and final step in choosing the right work boot is to actually out the work boot on and see if the boot feels too tight on the sides and ankle of your foot. If the boot fits too tight, it would be better to search for a boot with a wider toe box.
Following the aforementioned steps will ensure you find a boot that is comfortable to work in all day.
Our feet provided us with balance and support and enable us to walk, run, drive, operate machinery, play sports and so on.
Our feet can be injured in numerous ways. Slips causing sprains and strains. Cuts are common and more serious injuries such as broken bones, burns and even amputation of toes happen consistently at the workplace.
A serious foot injury can have a dramatic effect on the quality of life, both at work and at home. Even minor injuries can be extremely painful and debilitating.
So why do people injure their feet?
First, the feet like the hands, are bodily extremities and are not well protected.
Second, feet are complex. Each foot has 26 bones, 30 joints, 19 muscles and over 100 ligaments.
Common foot injuries
In the workplace, by far the most foot injuries are a result of falling objects.
The next largest group is stepping on sharp objects.
The third is objects rolling over or onto the feet.
Fourth, slips, trips and falls.
It should also be noted that two – third of foot injuries involve the toes. And half of all foot injuries involve only the toes.
The three important steps in guarding against foot injuries.
Be aware of potential hazards at your work place. Your safety officer should be able to help you with a list of these.
You must develop the discipline to follow the safe working procedures that have been laid down.
It is also critical that you make use to the correct protective equipment.
Working Safely
When putting protective footwear on, always lace them up completely. Doing this on high cut boots, provides extra safety for the ankle.
As you approach your work area, be alert to potential hidden hazards. Common sense house – keeping, storing equipment, keeping isles clear and wiping up spills can prevent many potential accidents.
Besides hazards in the work environment, another potential injury involves wear and tear, particularly when standing for long periods of time.
Because our feet were designed for movement, tasks that keep a worker standing in a fixed position can place a great deal of stress on the feet.
Over time, the blood supply to the legs decreases, leading to fatigue and soreness. Continuous unrelieved pressure on the feet day after day can eventually cause bone misalignment and degeneration.
Providing the feet with cushioning and movement, helps prevent these problems. Wood, cork, carpeting and rubber flooring are easier on the feet and joints than bare cement. But they are not always practical.
Hence, using footwear with ample cushioning and placing shock absorbing insoles inside a shoe can help reduce impact and increase comfort.
Before a shift begins, you can use simple stretching exercises to prepare the muscles and tendons of your feet for long periods of standing.
The familiar calf stretch, that athletes use before a workout begins by standing at arms length from a wall. Place one foot forward and the other behind you.
Then bend the knee of the forward foot, while keeping the back leg straight, keeping both feet flat on the ground. You should feel a gentle stretch in the heel, Achilles tendon and calf.
After holding this stretch for 10 to 15 seconds, switch to the opposite side. Repeat this exercise 6 to 8 times.
Another good warm up exercise includes a rounded object, such as a tennis ball, a 15 ounce can or a wide pipe.
Set this object on the ground and set one foot on top of it. Then roll the object back and forth under the arch of the foot. After about 5 minutes, switch to the other foot. To complete the exercise.
If you are experiencing any pain, make sure to consult with your doctor before starting any stretching or exercise.